Types of Natural Stone
Granite
Granite is a type of igneous rock comprised primarily of quartz. Igneous rocks are those that form from cooled and solidified volcanic magma or lava so this type of stone is well-known for its acute durability. It can withstand all kinds of kitchen dangers: hot pots, sharp knives, wet counters, and just general daily use. Granite's tenacity is complimented by its individuality, as each slab is pulled directly from the ground and is unique and beautiful.
Like other natural stones, granite varies widely in color and patterns. Its coloring ranges from black to green and from red to blue. The patterns of granite are diverse, one-of-a-kind and slabs can be lightly flecked with pigment, or contain large, dramatic veins. The patterns of granite can help to disguise debris and fingerprints, helping it to appear clean, making it a perfect addition to your home as kitchen and bathroom countertops.
Despite its vitality, granite occasionally contains soft spots and fissures that are susceptible to damage if not properly sealed. Like any natural stone, granite should be cleaned with suitable stone cleaners and sealed to help hinder staining. Granite is extremely dense, though, and some types of granite need little to no sealant at all. Although granite functions perfectly as countertop material, care should be taken not to subject it to acids or                                                                                           vinegars, and spills should be wiped up in a timely manner.
Marble
Marble is a type of metamorphic rock and is composed mostly of calcite. Metamorphic rocks are formed from protolithic rocks that endure a lot of heat, pressure, and subsequent change over long periods of time. This metamorphic process results in stones that are textured, layered, and unique. Marble is notorious for its singular and uncommon veining, which has led to the term, "marbling."
Marble naturally comes in many colors and patterns, which complement its unique motif. Its luxurious aesthetic entices and excites, so it is easy to see why so many people choose marble to accent their opulent homes.
Marble's extravagance doesn't come without a cost: it requires a lot of care and maintenance as it is porous and can easily be damaged by heat, water and acid. It can also be stained very easily, so homeowners should take care around their marble accessories.
Onyx
Onyx is a special form of marble. What separates Onyx from other types of marble is its translucence. The luminous stone can be lit from behind in order to exhibit its allure and individuality. Onyx tends to be banded and textured, and often includes heavy veining. Onyx is very motley and comes in a variety of colors—not just black. No two pieces of onyx are ever exactly alike, and one slab might contain dozens of colors. It is available in colors ranging from golden yellow to pink and blue or green and red. Onyx's patterns are typically mixed and otherworldly; most slabs are full of surprise colors and streaks.
Onyx's consistent originality is what makes it so special and perfect for someone who loves to stand out from the crowd! Furthermore, every single piece of onyx is unique. An onyx slab will do well to give your home a sleek, exciting feel. There is no denying the sheer aesthetic prowess of onyx.  Onyx should be used in low-traffic areas or low-use areas. Because of its precious and delicate nature, onyx can be marked easily by knives, pots, cleaning elements and acids. Bathroom vanity tops and bar counters that don't see a lot of action are well-suited for this statement-maker, however, moisture should be wiped up as soon as possible to prevent any damage. Onyx always should be cleaned with a stone cleaner and sealed regularly to stymie staining. Onyx slabs are typically not as large as other stone slabs such as granite, due to its fragility.
Quartzite
Quartzite is an incredible material that is naturally strong, resistant to heat and hard to stain. It's formed by sandstone combining with quartz under a great deal of heat and pressure. The empty grains of sandstone are filled with quartz, giving this material a mineral backbone, thus solidifying its strength and dexterity. Because of this, quartzite is considered an exceptional material for use in countertops.
Despite its durability, there is a slight chance for etching to occur on Quartzite's surface. This can be avoided by coating your stone with a sealant annually. You should avoid putting Quartzite in places that receive a lot of direct sunlight and you should be careful when putting hot objects on it. The difference in price for the material in either slabs or tiles will be reflected through the availability of colors and location derivative, as it can be found all over the world, but primarily in Brazil and India.
Quartz

Quartz begins as the raw material for engineered stone. Added to it are resins, some binding agents and occasionally pigments, which then manifest as stunning and durable quartz countertops. These are considerably stronger than quartzite and are not likely to etch at all. They require much less maintenance but are still stunning and natural. They are also able to withstand high temperatures—up to about 300 degrees Fahrenheit.
Soapstone
Soapstone is used for inlaid designs, sculptures, kitchen countertops, sinks, fireplaces, and more. It is porous so it is not harmed by hot pots, citrus, wine, acid or chemicals and will not harbor bacteria.
It is very durable, resistant to cracking, chemical free, stainless and heat resistant. It naturally boasts delicate blue tints. Most homeowners with soapstone accents use oil to enhance the colors and create a more vibrant look. The oil also helps to remove water marks. This material doesn't require a sealant, but it does necessitate some moderate care.
Types of Edges for Stone Countertops
The details of a kitchen are what make it unique. Choosing the proper stone for your countertops is important, but so is selecting the perfect edge to compliment your choice and the remainder of your kitchen. There are several combinations and alternatives when it comes to trims and edge types, so we've described a few for you.
Eased or Mitered Edge
The eased edge treatment is fairly common among countertops and it provides a simple and clean aesthetic. On granite countertops, eased edges display a square, flat end with sharp, slightly rounded edges. The eased edge can sometimes be rounded to the point where it is considered a "quarter-round granite edge."
Half Bullnose or Roundover Edge
This type of edge treatment is called half bullnose or roundover because it is not squared off at the end. Instead, the top of this edge is smooth and rounded a great deal, where the bottom is still flat. This type of edge is typically your least expensive rounded option.
Demi Bullnose Edge
This type of edge is a bit of a misnomer in that it is quite different from the Half Bullnose, although they seem synonymous. The demi bullnose edge is very smooth and it has a large, rounded section that hangs over to make the counter itself appear thicker.
Full Bullnose Edge
The full bullnose edge is a very common and contemporary countertop look. This edge is completely rounded on the end and there are no sharp edges which gives the countertop a thinner appearance overall.
Bevel Edge
This type of edge is different from the bullnose edge in that it is not rounded at all. Bevel edges have small cuts in the top cornered edge of the stone, usually at about 45 degrees. The deeper the top cut, the wider the bevel face appears from a head-on view.
Ogee Edge
The ogee edge is unique because it appears to form a curved "S" shape from a side view. This type of edge has a traditional and exquisite feel, and it is typically the most intricate of countertop edges offered by fabricators.
The Dupont Edge
This type of edge, sometimes referred to as, "Bird's Beak," is similar to a Demi Bullnose in that it also has a notch at the top edge. This type of edge can be easily chipped on certain types of more delicate stone.
Triple Waterfall Edge & Laminated Edge
These types of edge are very detailed and ornate. These edges are achieved by gluing together different stone profiles, and they give the countertop a very thick and robust appearance.
Chiseled Edge
This edge has the most natural and unrefined look. Stone fabricators can sometimes chisel this edge by hand, although it is usually done by a special machine. The edge appears rough and like it has been broken off. Typically, fabricators smooth the edge and finish with a clear coat to give it a nice sheen.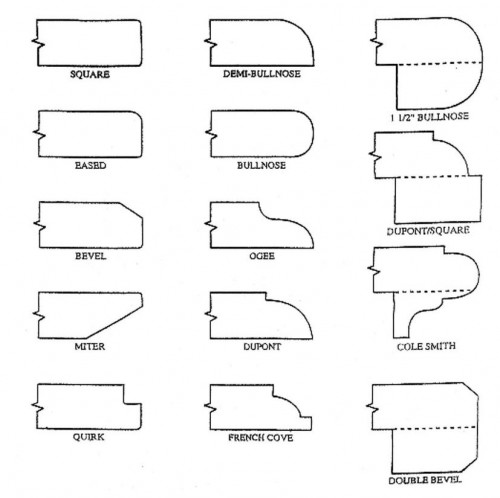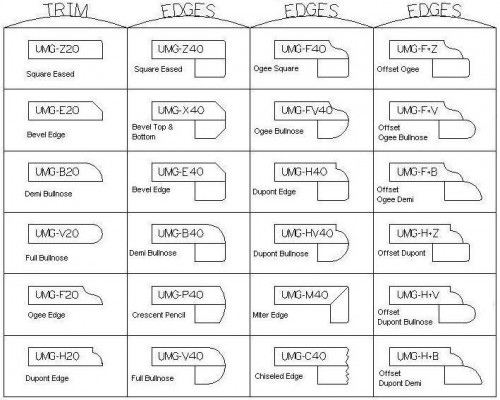 How to Properly Light Your Granite Countertop
Your granite countertops are a beautiful investment and they deserve the perfect amount of lighting. It is crucial that they are lit to compliment the rest of your kitchen or bathroom.
Impeccable lighting is the key to making your granite countertops the focal point of the room. It's important to note, though, that ceiling light fixtures don't offer nearly enough luminescence. To best display the style of your granite counters, you should install lighting underneath your cabinets or directional lighting in your ceiling.
Granite countertops tend to create a mirrored effect, so in order to properly light them you will need a light fixture that has a lens over the bulb. This way, you won't see the lights themselves reflected in the counter, and instead you will get a lovely glow. Track or pendant lighting are also great options to enhance the look of your granite counters.
Granite countertops are a gorgeous addition to your kitchen or bathroom, but if they are not properly lit, it is hard to appreciate them. If your kitchen does not have much natural light, you should select granite that has a significant amount of white or gold flecks. Darker granites look best in areas that receive substantial light already.